Vietnam 2002
Wow! Where to begin? At the beginning. But first thanks to Dave, Digby and Steve, my traveling companions, friends and guide for making the trip a great and fun adventure.
Those in the UK, sorry about the US spelling, and those in the US, sorry about the English expressions :-)
Introduction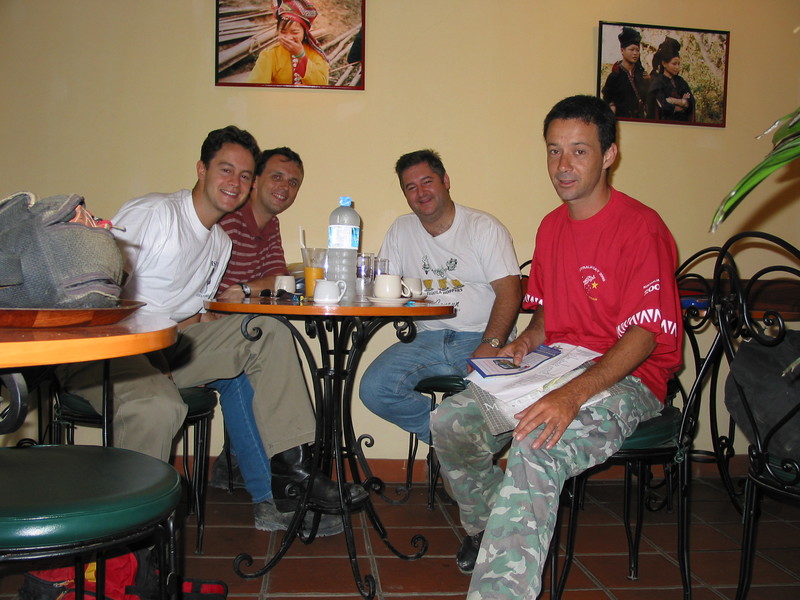 It began in February with an instant message from Steve. A
Trillian
window popped up and after a little geek speak Steve mentioned he wanted to do a motorcycling trip around Northern Vietnam. Dave, a friend of Steve's was also interested plus a possible fourth member. After reading the web site www.motorbikingvietnam.com (now (2008) located at
http://www.exploreindochina.com/
) and considering that I had never actually ridden a motorcycle I duly said yes, I was interested. Early May was the proposed date.
Learning to Ride
The problems began immediately. Learning to ride a motorcycle in Chicago is not easy at the best of times. Learning to ride in February is virtually impossible due to the extreme cold and general availability of snow. Fortunately the skies brought us some very favorable weather with temperatures just below room temperature. This is where Paul McClay came to the rescue. He had learned to ride just the year before and had attended the highly recommended Motorcycle Safety Foundation (MSF) safety course which if you pass the course automatically qualifies you for an Illinois License. He said I should sign up for the course and so I did just that. Unfortunately the annual schedules do not go up on the web until March. I checked the previous year's schedules and they did not begin until April so I expected the same this year. This was clearly going to be too late for me to pass a test and get experience.
After talking about the situation I decided the best way for me to learn in time and get experience (did I say that this Vietnam trip was to be off road??) was to buy a dual sport (on and off road) bike and learn to ride it. Large quantities of this information was coming from Paul's friend Colin Quinn who will reenter the story later. Paul escorted me around several bike stores one Saturday morning and I latched onto a second hand Suzuki DR350 from Downers Grove Yamaha. "It should do the job."
A few weeks later Paul rode the bike across to an empty car park on Sunday morning and gave me some considerable tuition in how to handle a bike. The basic stuff. Riding position, throttle control etc. Paul proved to be an excellent tutor. Full of encouragement and very analytical at the same time. It is largely thanks to Paul that this trip was a success.
Paul was away in the UK for a couple of weeks on business but when he came back we went to the same car park again and did another hour. I felt much more confident this time. Paul said that I was basically ready for the test and I should do it.
Meanwhile I had applied for the MSF course as soon as the schedules were posted. I heard a while later that I had been short-listed for the June 1 class. I did not even get a guaranteed post, such is the demand. I found out when I went up to the Elston Avenue Department of Motor Vehicles (DMV) to try to take the class as a "Walk In" that most people overnight their application forms. Darn! I failed to get on the course and will try again on June 1.
The DMV
Contacting the DMV can be a nightmare. The central Chicago clearing number is often not answered and you are disconnected. I got through to this very helpful guy and he explained the many facets of taking one's test. I found out that "Elston", my nearest DMV facility was currently closed for motorcycle tests due to resurfacing of the test area. I was told that "Lexington" was open. I arranged for my good friend Jim to escort me down to the facility one Saturday Morning. Yes they were open and yes even on a Saturday. On arrival at the facility we both got into line to take the test and a few minutes later a guy came out saying that they will not be doing any more tests that day. Huh? It turned out that they had not been doing any at all and the facility was closed for resurfacing. Bother! A few weeks later the next opportunity arose and Jim was available as an escort. I phoned around the various DMVs and was told categorically that the facility at 9900 south Martin Luther King (16 miles away) was open. I checked with the facility itself that very morning. We head on down there. Here I met a very unfriendly and unhelpful gentleman who said that "No they were closed and if I had anything else to say, to speak to Jesse White" (The Illinois Secretary of State). He must have been certain of this because he told us four times. Thankfully Jim pulled me out of there because I was fuming. After a quick cup of soothing coffee, actually coffee is not soothing but you know what I mean, I made a few more calls and was told that the Bridgeview facility was open. The lady assured me. I asked her to check again and the reason why. She did and we headed down in that direction.
The Test
Ok. Suddenly this test looks tricky when explained by the examiner. Not quite what was written in the book. Humm. Well, we are here now let's do it. After making one foot fall, one wheely and not stopping fast enough on the emergency stop I passed. Hooray! Jim aced it. Smartass! Seriously though, Jim completed the test with consummate skill. The examiners were a bit hard on him but he failed to give them the satisfaction of making a single error.
Licensed to Kill or be killed (but hopefully neither)
Now having received my license I needed experience. I just rode whenever I could. Chicago has one street with bends in it. Sheridan, which continues north up the coast where Lake Shore Drive stops, has a few bends. I drove all the way up to Highland Park to see Mr. Schmidt. Had a quick coffee and headed home again with, oooh, maybe a dozen bends under my belt.
Oops!
Friday night, three days before departure, I went to see the new SpiderMan movie. Great movie. Leaving the theatre I received a voice mail from Steve in Singapore. "I bust me shoulder" or words to that effect. After spending 15 minutes trying to get AT&T to enable international dialing on the cell phone I got through to Steve. He had bust his shoulder and might not be able to make the ride. Hummm. We investigate the possibility of moving the trip but it was going to be both expensive and tricky to find another slot when we could all fit it in.
Off Road
Colin was busy finishing some work on his house which had him unavailable for a couple of weeks but thankfully he managed a little time, for which I am very grateful, on the Saturday afternoon before I flew out on the following Monday. He also had the Sunday available but I did not. He took me to a small off road area and showed me some basics. I explained to him that I may not even be going now because of the shoulder incident.
Sunday
It's a go. Steve thinks he might be able to do it and even if he can't then he can still come to Vietnam and take a beach holiday or do some diving. We are on. The bike trip does not begin until next Saturday so there are still a few days to see if Steve's shoulder will ease a little.
Monday-Tueday
O'Hare. Zoom. Tokyo. Zoom. Singapore. 24 hours later I arrive in Singapore. Feeling good, no jet lag. Weird.
Wednesday
Pool. Sim Lim. Walk home. Still feeling good. Out on the town.
Thursday
Go to Steve's Chinese doctor who pulls Steve's arm about and declares him physically dead and exceptionally stupid if he decides to ride a bike for seven days. What does he know? The intention was to nip across the causeway to Malaysia for a bit of dirt riding today but that fell through for lack of time. However we went to a local site that Steve knew and he let me ride his bike for a while. I came off reasonably spectacularly and put his front forks out of alignment and managed to bruise a finger joint. It made it difficult to pull the clutch so we called it a day. Steve explains that to realign forks you push the handlebar to one side and kick the wheel until realigned. Designed that way!
That night we headed out to see Deep Purple in concert. They were very good and the largely ex-pat crowd at the event warmed the band enormously. Thanks Norbert for the excellent Steak and Kidney pie in the club.
Friday
Before heading to Singapore airport, Steve and I stop off at the local bike store to get a few things. A pair of gloves and goggles for me and a goggle attachment kit for Steve. At the airport we meet Dave and check ourselves in. Steve buys another 128MB memory stick for his Sony Digital camera. The flight was uneventful and we arrive in Hanoi on time and are met by a taxi to take us to the hotel. First view of Hanoi traffic. Interesting.
Steve and I. Yes this really is water!

Vietnam. Hanoi. Classic Hotel. A little culture shock here. Don't get me wrong. The Classic Hotel is very good. Just not quite like your average Hilton. Pack some gear into the panniers provided by Digby and head out for the night. Digby shows us a few places including Highway 4. Introduction to Zio and the pipe.
Saturday
Get the Minsks. The Minsk, a Russian made, 125cc two-stroke bike (pictures below) which the rental guy has done up a little to support Digby's unusual requirements. Basically, as I find out, we are gonna give these bikes hell for the next seven days. After a last breakfast (English breakfast that is) we head north and east to where no "tourist has gone before." Not quite true but close enough.
Digby sets a few rules. Basically there are no rules on the road except one, as Steve will find out later. Keep right! Keep moving in busy traffic. If the group is separated, at all times it is the responsibility of the guy in front to make sure that everyone is there. This only fell down on us a couple of times over the week.
This was an exhilarating ride. Quite a long way and through beautiful territory (I ain't seen nothing yet). Digby found a pleasant side track for us to take which was a loop which took us back to the main road about 3 miles back. However it provided a beautiful spot for lunch which annoyed a local lady who indicated she would rather we were not there. This track provided us with our first taste of deep rutted extremely muddy roads as can be seen in the photos. Further on we stopped for a Bia Hoi where the local chap showed disbelieving interest in Steve's physique comparing Steve's arms with his legs. We shall not mention what he thought about the gut area. We end up at an old French Fort at Mau Son which was totally destroyed by two conflicts and is now in the process of being rebuilt as a getaway destination. We are now only 15km from the Chinese border. Cool!
Views are devastating from the top and by now I have more practice taking bends than I will ever need. That was a seriously windy road up to the 1500M or so summit on which this fort is placed. Digby provided some bread, pate and wine which went down nicely as the sun set, providing an end to the day. The dinner provided by the establishment left a little to be desired and we were surprised to find it the following morning still sitting on the table as it was left the evening before. The accommodations were basic and I understand lend themselves better as a whore house than a hotel. The next morning, after a photo shoot and coffee we set out back down the hill.
Sunday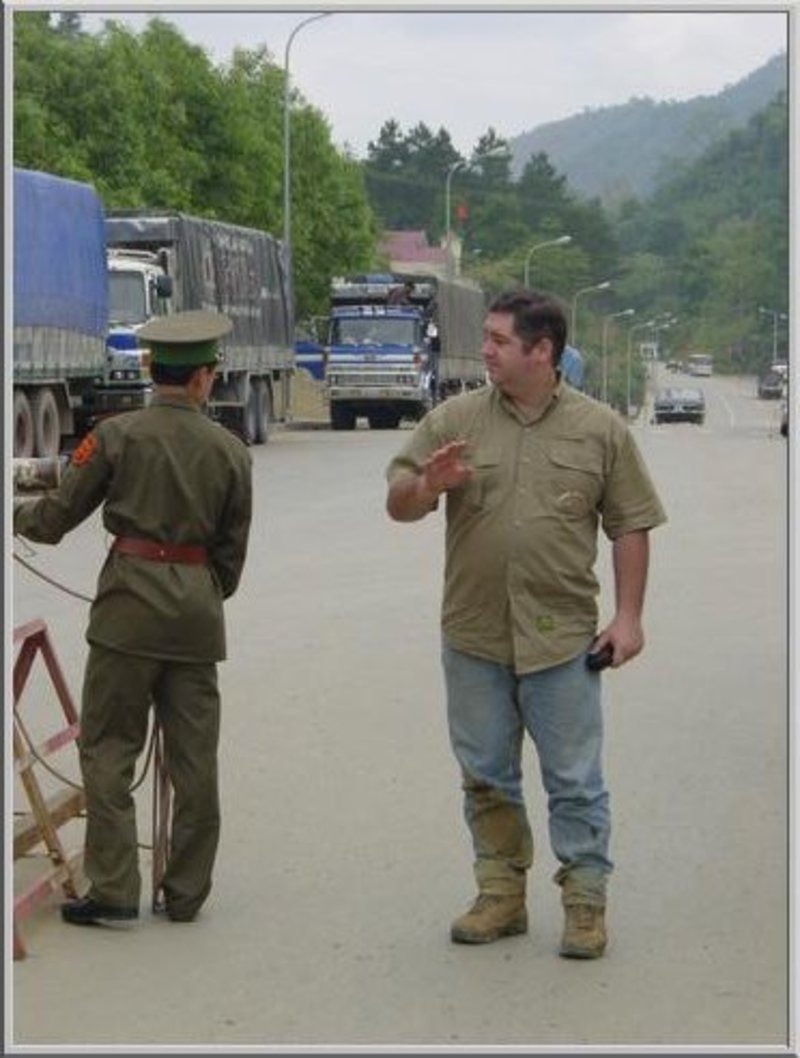 Having arrived at dusk on the previous day we did not really have an opportunity to see the scenery and even if I had, my eyes were glued to the windy road whilst I was still learning to take bends. Today though, everything is laid out before us. Beautiful. Steve has the idea of free wheeling down the mountain. So we do. People stop what they are doing and watch as the four of us cruise silently past. The first port of call is the Chinese Border crossing where we are told not to take photos. We leave again.
En route Digby finds a path off to the left which might just offer a better view of the other side of the hill. We take off up this hill and soon come to a very narrow part of the track. Steve and I continue on up as far as we can go and then start on foot. Digby arrives a few minutes later and Dave is on his way. We turn back on foot with no view to be found. Calling Dave's name brings a response and we continue to wander back to the bikes. A moment later Dave calls louder and we run down to find he has left the track and the bike has landed on top of him. He is ok but a little bruised. We all head back down and I too leave the track and the bike ends up upside down spilling fuel onto my leg. No harm done and Steve gets a shot of Digby struggling to get the bike out of the bush.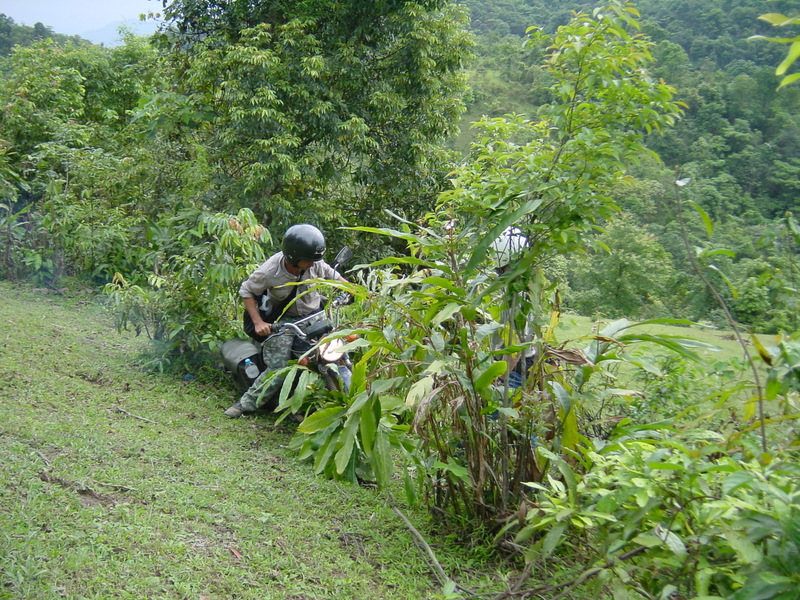 The day provides a very pleasant ride with our first example of how useful a digital camera can be with breaking difficult ice. The children are embarrassed about having a photo taken. After showing the resultant photo they are all interested and pointing at them selves on the screen with big smiles.
We arrive at Cao Bang around dusk and the hotel is very easy to locate on a major intersection and river bridge. After having a few beers and settling in we head out to a nearby restaurant. Digby takes care of ordering the food and we enjoy typical Vietnamese fare.
Dave has an enormous snake living in his toilet (well more like a 6 inch worm). Steve took a photo. Requests can be made if required.
Monday
The next morning we head out toward a waterfall at the Chinese border. Digby purchases permits in advance to ensure our access to the border area. This area of Vietnam has a 25km exclusion zone preventing access to foreigners and Vietnamese alike from accessing the border region. With our permits ready we head up there.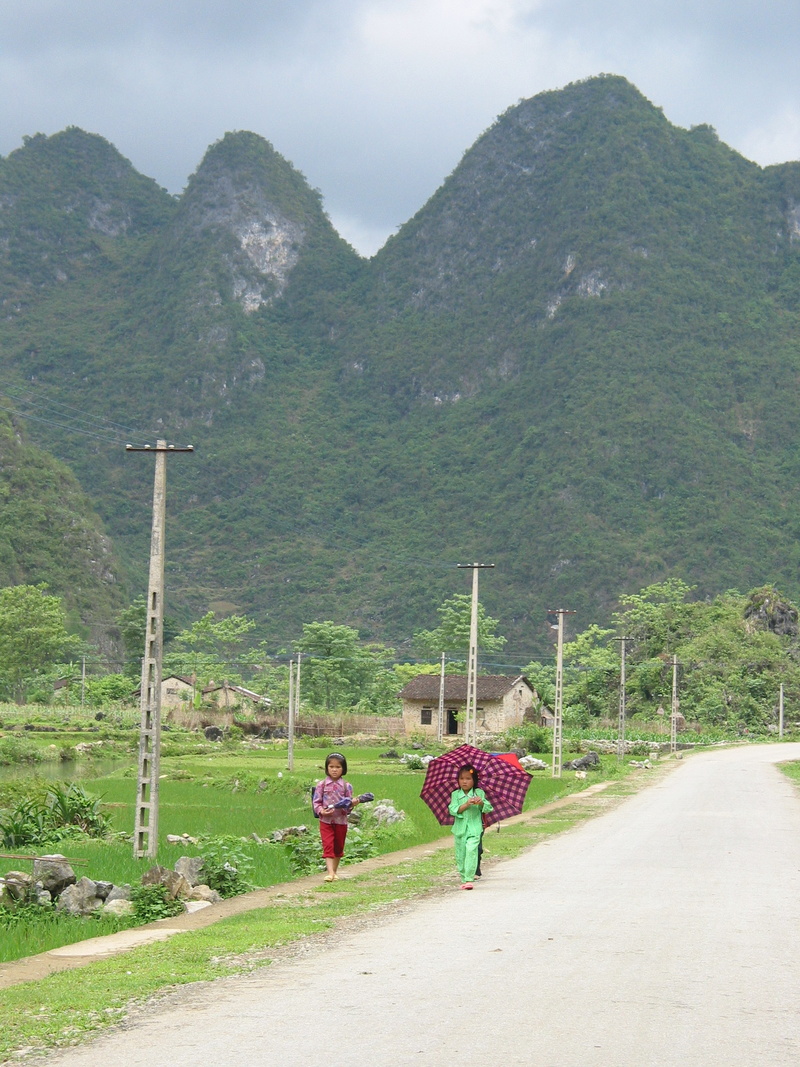 Digby pulls us over at the border control point where we surrender our passports to ensure we don't leave for China. The ride from the control point to the waterfall is beautiful. Little water wheels being used to provide power, presumably for either milling or irrigation.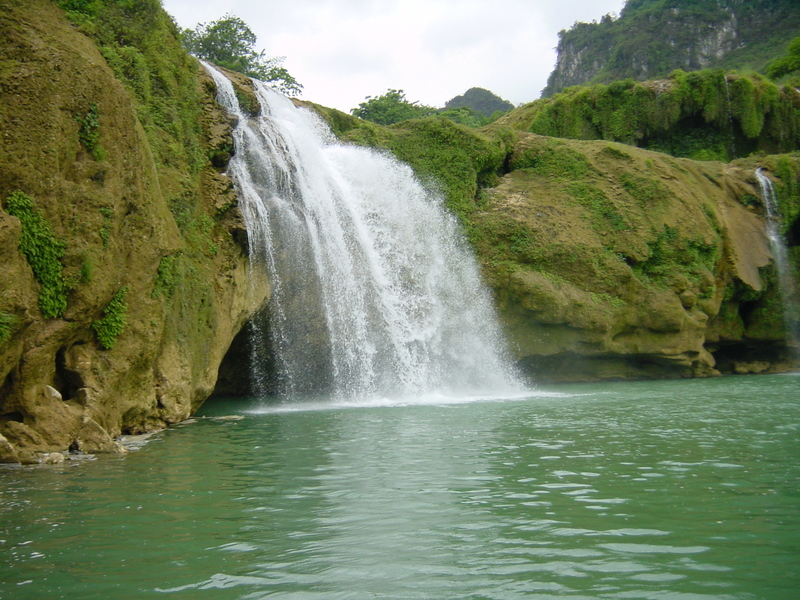 At the waterfall we pass a pleasant few hours swimming and having lunch. Dave and Steve head off to swim to China and while there insist on mooning. Photographic evidence is available to Chinese authorities for persecution. After lunch we walk above the falls and take a little swim up there and I decide to swim to China and take a leak. It starts to rain, hard. We head back to Cao Bang in the rain. After a mile or two I switch to goggles. The others gain a little on me as I am stopped but I know they will stop at the border control. No worries. It starts to rain harder and I still have not caught the guys up. It continues to rain hard and I am starting to realize that I must have missed the control point so I slow down considering turning back. I get to a village which I do not recall being this side of the control so I turn around. A couple of minutes later I run into Steve who had been steaming along to catch me up. Somehow, when the rain started tipping down I had missed the control point where, sure enough the guys had stopped and were waiting for me under shelter. They saw me blast past and thought "whoops." Thankfully they had my passport as well so there was no need to return.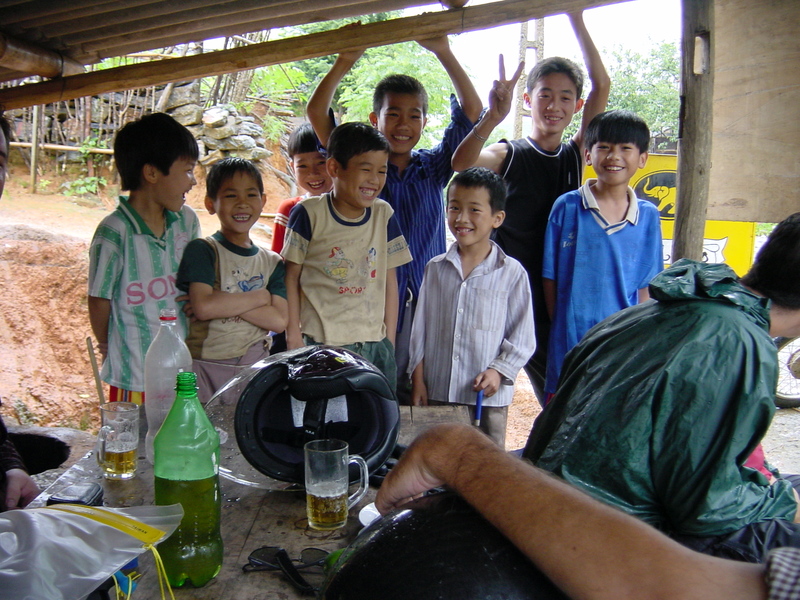 We stopped for a few beers and waited for the rain to dissipate. We ride back to Cao Bang where we have more beer and head out to another restaurant to which Digby has not been in a while as he had a falling out with the owner a couple of years ago. We ate well. More zio.
Tuesday
Last night it rained. Really rained. And, as we are about to find out, this will give us an interesting day. We had planned to arise around 5am and head out to see a very colorful market where the locals go but it is still raining at this time so back to bed. Later that morning I get up and notice a bus stuck in the middle of the river. For some reason, perhaps for cleaning, the locals drive them in a loop through a shallow part of the river. This morning it is not so shallow. We enjoy watching him struggle to get out with the assistance of a local mechanical digger.
Digby wants to take a road which he is uncertain of to check it out. He knows they are working on it but is unsure of the state of many of the bridges. They are currently being built. We are blessed with good weather but sure enough we soon come across a semi-completed bridge. There exists a block of road-width concrete across the top of the bridge but no means of riding onto nor off of it. We have to lift the bikes up and over.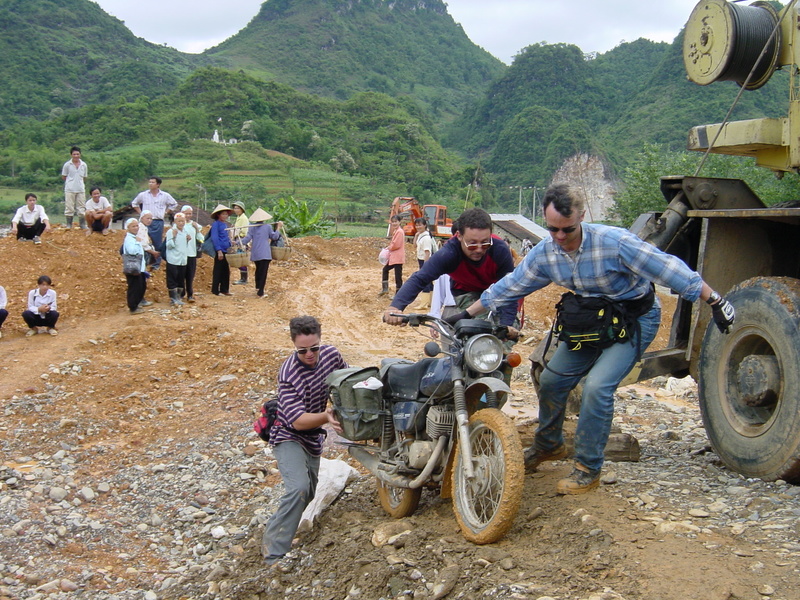 Oh well. This bridge crossing and the next we encounter provide many minutes of entertainment for the locals who sit and watch the proceedings with good humor.
Today gives us our first puncture out in the wilds. Dave is afflicted on the top of a hill. Digby and Steve have driven on ahead so I go and get them back. Digby sets to fixing it. The day gets more and more interesting when we zoom around a corner and find Dave stuck, up to his knees, in mud. This is a mud slide which has totally covered the road. I give it a go on a more crusty looking area of mud and get stuck exactly the same as Dave. Now trudging around knee deep in mud as well we pull both the bikes out and figure out that the edge is not quite as deep and we decide to push the bikes along the edge. Now by edge I don't just mean road edge. I mean cliff edge. This is several hundred feet high. Steve elects to try to ride his bike along the edge. Gulp. Well he gets a few feet and gets stuck so we end up pushing them all very carefully, one by one, to the other side of the slide.

| | |
| --- | --- |
| | |
A little further along this windy mountain road we come to an avalanche (mud slide) site where the road is completely blocked. We have already ridden through several small avalanches with no problem but this is too big to pass and a mobile digger is fortunately digging this one out. A little later we are able to pass over the remaining mud and continue a few miles until, another one hits.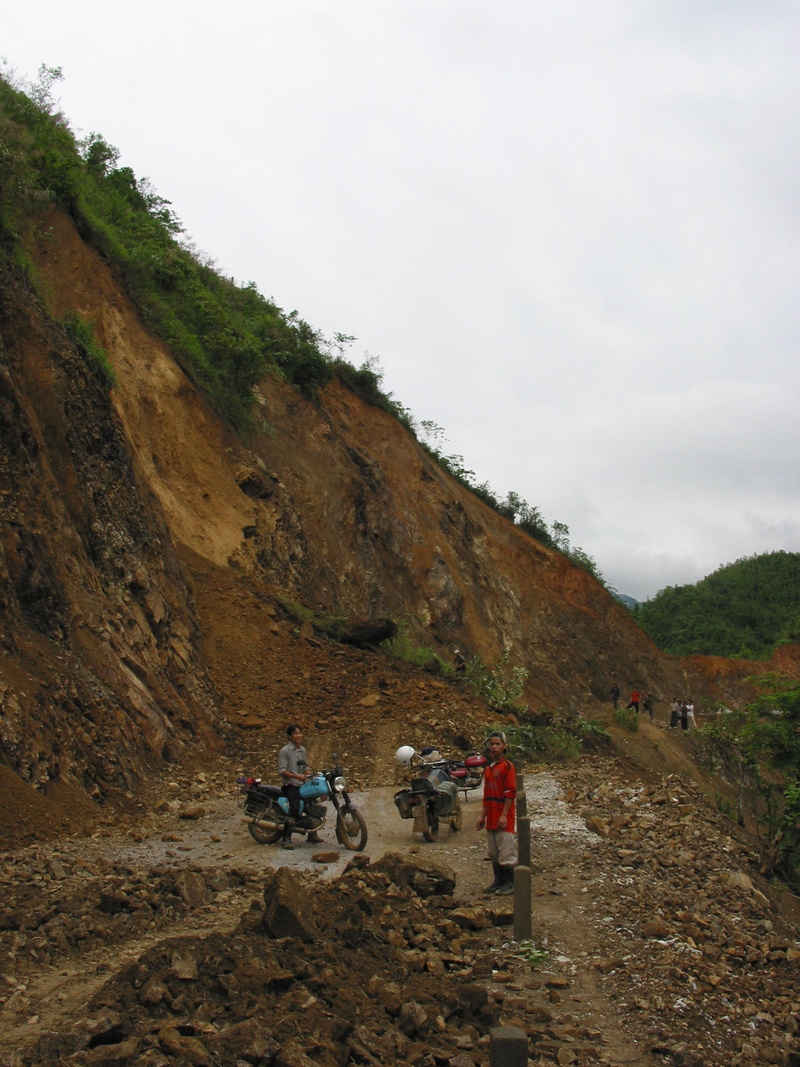 This one is still moving and clearly dangerous. We are moved back a little way by the locals for safety. We decide to take lunch at this time and soon we have a collection of locals sitting with us while the same digger as before comes up the road and starts work on this avalanche. On the road, a hundred yards back we hear another small avalanche and nervously consider the prospect that we might just get stuck.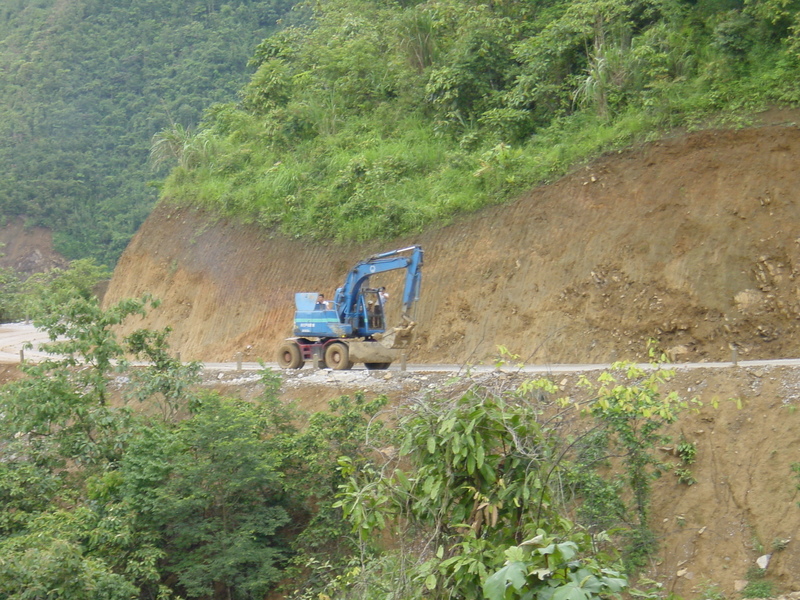 After two hours work the digger clears the path and we continue again. With no further large obstacles we make reasonable time until we reach the small town near to where Mr. Dang lives on Ba Be Lake. However the road is completely blocked by flooding and we have to take rafts a few hundred yards to the other side of the floods. This is amusing and we take off, one or two bikes per raft to the other side.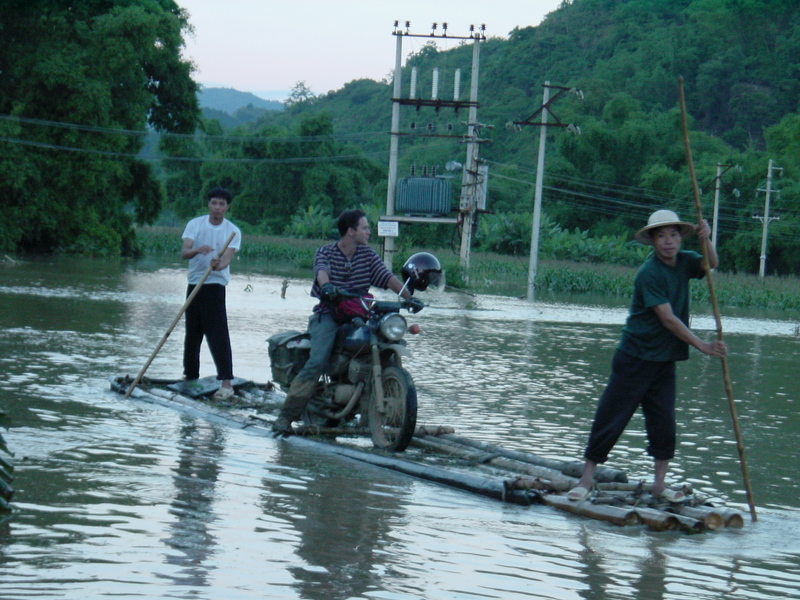 On the way the raft gives a loud cracking sound and I fear the bottom might just give way but it holds and we get across. We continue on the road and it gets dark. At this time Dave has Digby's bags sitting on top of his because Digby has a slow puncture and it eases the load. We get to an area of road that is 18 inches deep in water for an indeterminate distance. We set out across this one at a time with Dave in front of me and me at the back. Dave stalls. I rapidly decide that I have no desire to stop so continue on, expecting the other side to be close. After about 400 yards of just following the tops of the road markers the other side of the flood is evident. Dave comes through a few minutes later but the panniers have been pulled off by the water. Digby and Dave set out back into the water and thankfully find them immediately. We continue to where Mr. Dang has a ferry waiting to take us to his house. We stick the four bikes on the ferry and are rapidly transported across which leaves only a few hundred yards to Mr. Dang's. The last fun piece is a very steep slope down to the house which is fun to ride, 18 inches wide with steps on either side, straight down to the house.
Essentially we all collapse at this point. Tired and weary from a long day we eat a hearty supper with the Dang family and drink plenty of wine, beer and zio. Done. Pass out.
Wednesday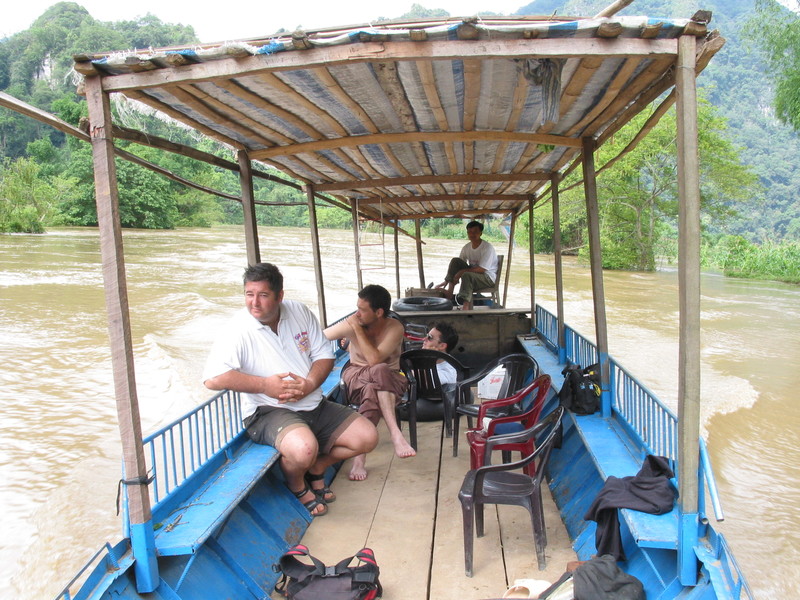 We decide to take a half day on Mr. Dang's boat to head up river to a cave where Digby and Steve jump out onto large inner-tubes and float off down stream. No-one seems to have informed Steve of the necessity to rejoin the boat at the other end of the cave and he heads off down stream. Bye Steve. We have a quick explore of the cave and then head off to see to where our wayward traveler had drifted. Not too far away we find him merrily splashing about and we all watch as Steve, still with a bad shoulder, attempts and succeeds to climb aboard again. It is hard to imagine the area we are currently floating on is in fact a smaller river which has swollen and currently 8 feet deeper than usual. All the fields are totally flooded.
At lunch time we continue our bike journey with another ferry crossing to the far end of Mr. Dang's valley. We head off to Bac Quang. More stunning scenery etc.
Thursday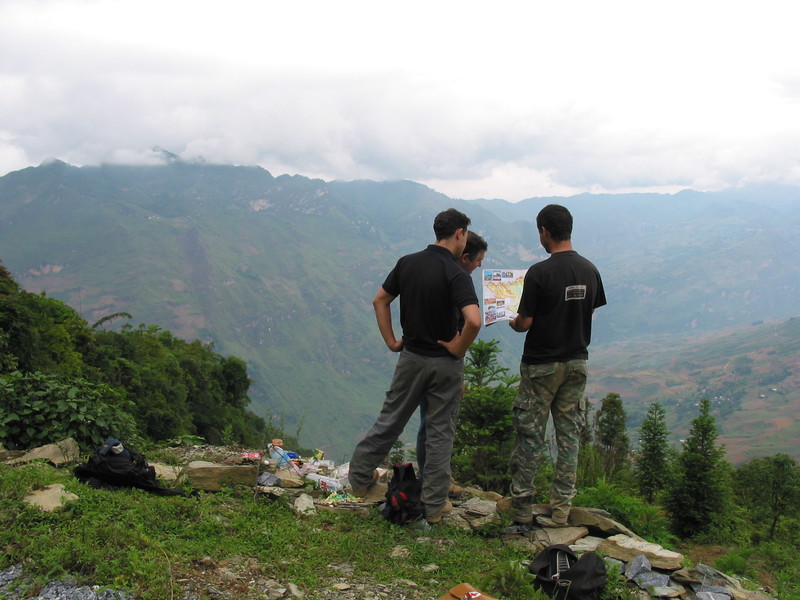 We headed to Lao Cai on Thursday using the "Glory Ride." Our original plan, from the beginning of the week was to ride back to Hanoi on Thursday enabling Dave to catch the plane on Friday morning as he had to head back earlier than us. Digby persuaded us to change this plan to get this great ride he calls the "Glory Ride". To do this Dave will have to travel back to Hanoi on the train alone. It is a shame to split up the group but the ride turns out to be worth it. Everyone has a good ride and Digby serves his usual, excellent lunch. Dave gets back to Hanoi with ease.
Friday
Sapa. We head off to Sapa today, this is a very pretty region in the North West of Vietnam that is also well publicized in the Lonely Planet and Let's Go guides. It offers a fantastically beautiful ride and a first class English breakfast with a great view but I am really glad that Digby took us mainly around the North East. There are just too many tourists here and you can tell by the "tourist modified" behavior of the local people trying to sell you everything from T-shirts to silver jewelry. We all enjoy our ride and Steve discovers a new traffic law, Keep Right. He receives an extra holiday bonus which comes in the form of a head on collision. Well we all came off the bikes at least once but Steve does it in style. USD75 later in terms of compensation to the local and all is made well again.

That evening we arrive back in Lao Cai in good time which is great news because we have to catch the Hanoi train. We were held back by the accident, poor weather and all the workings on various mud slides.
Hanoi
Back in Hanoi (view from hotel window) Steve and I take in some sights having hired the bikes for a few more days. We drive up to West Lake and also see the Literature Building. It is obvious that the French influence on architecture is here. The country is full of the weird, the inquiring, the simplicity and the simple wonder.
Summary
Great country, great ride, great guide, great vacation. I hope it can been seen from the photographs, which really do not do Vietnam the justice it deserves, this is a fantastically beautiful and friendly place. I learned a few things here and the one that stands out in my mind the most is "Never ask a Vietnamese if he knows how to ride a motorbike." They are just so prevalent here that the ratio of cars to motorbikes seem equal to that of the western world bikes to cars ratio.
Here is a copy of the map Digby provided after the trip. It clearly shows the route we took over the seven days. Thanks again Digby.